8 August 2019
I See Hawks In L.A. & The Good Intentions "Hawks With Good Intentions" (Western Seeds Record Company, 2019)
clip_image001California's I See Hawks In L.A. and Liverpool's Good Intentions met and became friends at a house concert in California back in 2012. Since then, the bands have shared stages in the States and here in the UK and along the way they began writing some songs together, the first fruits of their joint effort displayed on the Hawks' last album, 'Live And Never Learn', which had two songs co-written with Peter Davies of Good Intentions. Bouncing emails and mp3 files across the Atlantic they eventually came up with the ten songs on display here, sections recorded in L.A. and Liverpool with each of the bands' contributions stitched together so well that the join is never seen. As it says on the sleeve, "Gleaming technology serving acoustic guitars and down home harmonies."
It's primarily an acoustic album with drums on only one song and some spare lap and slide guitar from Paul Lacques present. Lead vocals are shared between Davies and the Hawks' Rob Waller and Victoria Jacobs while the other member of Good Intentions, Gabrielle Monk, weighs in on backing vocals. As such, it's a collection which is finely laidback as various guitars strum and harmonies float reminding one of the "wooden music" side of CSN&Y or the more blissed out moments of the good ole' Grateful Dead along with a sprinkling of acts such as The Ozark Mountain Daredevils and Loggins & Messina. Writing in various permutations with Waller, Lacques and Jacobs, Davies has a hand in all but one song and it's his voice which opens the album on 'Blue Heaven', a sun dappled slice of nostalgia laden with harmonies and sly Dobro, the kind of song which could accompany faded home movies of flower children celebrating. Waller takes the reins for the following western themed 'Things Like This', a taut Larry McMurtry like murder tale which skittles along like tumbleweed before Weller and Davies swap their contrasting lead vocals on 'Rolling The Boxcars', a gambling song with the protagonists always on the losing end with the song delivered as if all were singing around a late night campfire.
Plenty to admire then in this opening triumvirate which showcases the strengths of both ends of this collaboration. But there's much more to come as the combo accommodate the folkier side of Davies on the Tom Paxton like 'Rambling Girl' (with The Punch Brothers' Gabe Whitcher on fiddle) and then allow Waller to deliver the excellent railroad chug of 'Steel Rails'. 'White Cross', one of the songs which appeared on 'Live And Never Learn', remains as sinewy as the original while 'Flying Now' finds Davies down on his luck but ever hopeful on a song which recalls the late Ronnie Lane especially with its accordion accompaniment from Richie Lawrence. 'Epiphany On Town Hall Square', while fitting well into its surroundings in terms of its delivery, is somewhat odd, bearing as it does, echoes of a Christmas carol in its setting but the closing 'Will You Watch Over Me', the one song written solely by Lacques and Waller, is bang in the Hawks canon as it gently rolls along with rippling guitar accompaniment invoking a greater spirit.
Collaborations can often be tricky affairs but it feels safe to say that on this occasion fans of either band will be satisfied by 'Hawks With Good Intentions'. It simply radiates good vibes as these transatlantic cousins find common cause.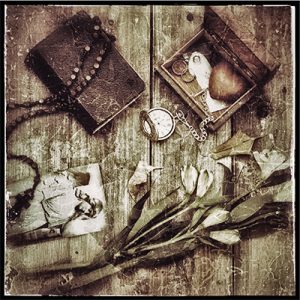 Click here to download The Good Intentions EPK
Click here to download The Good Intentions RADIO EPK

Praise for "The Long Unbroken Line":
"Sad songs seldom sounded so good."   (Americana UK)
"A wonderful and remarkable record."   (Country Standard Time)
"Pure class."   (Flying Shoes)
MAVERICK (April/ May 2017 issue)
The Good Intentions: "The Long Unbroken Line" (Drumfire, 2016)
4 and a half out of 5 stars
Acoustic old-timey fare with a modern touch
Husband and wife duo R Peter Davies and Gabrielle Monk have peddled their particular brand of acoustic country around the globe, and The Long Unbroken Line is their fourth offering. The award-winning Liverpool couple concentrate on what they do best: innovative lyrics set to simple old-time melodies. The result is another roots-based album reminiscent of the music transported across the pond all those years ago, but given The Good Intentions' distinctive trademark sound. Davies and Monk harmonise beautifully, and have already come to the notice of the likes of Bob Harris. All tracks feature Rick Shea, whose pedal steel, dobro, mandolin, banjo and guitar work is perfectly suited to the pace of the album.
This is a fine effort, which should help the duo cement their reputation as a top British Americana outfit.
-John Roffey
COUNTRY MUSIC PEOPLE   
As always, the songs are slow and thoughtul, pleasantly melodic, and beautifully arranged, and often with stunning lyrics. "A Long Way Home" and "Lonely Valentine" are especially good. An easy 4 stars.
-Spencer Leigh   Jan 2017
R2   issue#61
Liverpool-based husband and wife duo R Peter Davies and Gabrielle Monk deliver Americana filtered through a cold, dark English fireside, drink-infused lullabies that sound composed and sung while sipping on pints of bitter rather than shots of bourbon.
"The Long Unbroken Line" is a fitting soundtrack to a metaphorical dustbowl Britain of 2016.
-Neil McLeod
AMERICANA  UK
The Good Intentions: "The Long Unbroken Line" (Drumfire, 2016)
Lovers of old-time country/folksy ballads probably know about Liverpool's 'The Good Intentions' by now. This latest record, as with 2013's 'Travelling Companion', sits outside of the constraints of time and trends. The knowing, wistful tones of R. Peter Davies (with a hint of Gram Parsons in timbre), augmented by Gabrielle Monk's sympathetic harmony voice, retell familiar yet enduring stories. Broken and unrequited love, the battle against the bottle, loss and regret – it's all here. Clichés are sidestepped, owing to the warmth of the melodies and occasional deft lyrical turn. Gentle arrangements are given colour by a clutch of West Coast musicians adding pedal steel, fiddle (courtesy of Carolinian maestro Brantley Kearns), mandolin and other flourishes.
Standout tracks include 'Lonely Valentine' and 'Sad Country Songs' – in itself a self-defeating warning for us to stay away from everything the band stand for. We all know, however, that we're not in any rush to do such a thing. Final track, a folk traditional, 'The Leaving of Liverpool' is a clever take on the Good Intentions' Mersey roots and Californian recording adventures.
Sad songs seldom sounded so good. The Good Intentions are, musically speaking, ever dependable friends who'll soothe your mind and comfort your soul. We all need that from time to time.
Both the circle, as well as the line, remain unbroken for the UK's old-time country torchbearers.
-Mark Nenadic     29 Nov 2016
FLYING SHOES
THE GOOD INTENTIONS —THE LONG UNBROKEN LINE (Drumfire Records)
Liverpool husband and wife duo, The Good Intentions, have a bunch of superb players accompanying them on their latest album. Recorded at Paul and Mike's in Burbank, California, the music is of a beautifully understated variety, and the vocals aren't pushy. Awash in an edgy gracefulness, the partnership serves up a seriously  good set of work.
Regarding the songs, all but two tracks are the work of R Peter Davies (vocals, acoustic guitar). One is a co-write with Gabrielle Monk (accordion, autoharp, percussion, vocals), the other half of the duo. Their sole collaboration "Sad Country Songs" comes with a warning to beware  songs of heartache, and of how heartache duet masters George and Tammy could never make you happy. It is joined by a new arrangement of traditional ballad, "The Leaving Of Liverpool".  Though a surprise inclusion, it fits the record perfectly: sombre and at the same time graceful. Their voices complement one another throughout, and likewise the accordion, guitar and percussion-based accompaniment.
Davies and Monk keep things simple: they are both accomplished vocalists, and experts when it comes to shaping a lyric to produce well-rounded tones to carry a story.
Supported by Rick Shea (producer), Don Heffington, David P Jackson, Eric Gorfain, John Palmer, Billy Kemp and Brantley Kearns, plus Claire Holley and Jeni Hankins on additional harmony vocals, the album surpasses all expectations. The likes of the live studio recording, "Your Old Flame", featuring a 1930s National Steel guitar plus Kearns's fiddle, shows a little more daring to go with the sure footed. Among the finest work, the eye for detail in "A Long Way Home" edges in a fashion hard to match, and it has good companions in "Hard Times Have Come Again" (loaded in steel and harmony vocals, the melodic piece glides, like a skater on ice), and, with a wonderful shuffling feel, "Rest Home Cowboy" has a nostalgic feel. Possibly the finest all-round track is "Appalachian Girl", as their joy for music and down to earth people radiates to the sound of fiddle and rumble of banjo. Pure class.
Nov 2016
COUNTRY STANDARD TIME
The Good Intentions: "The Long Unbroken Line"  (Tres Pescadores)
The Good Intentions take their handles seriously. Their name reflects a genuine desire to transplant their homespun harmonies and Gram-meets-Emmylou embrace to the far side of the Atlantic. And indeed, the title bears relevance by finding a continuous thread that advances roots relevance by offering nods to their Americana forebears. This they do by adhering to the basics, specifically, the two voices of husband-wife duo R. Peter Davies and Gabrielle Monk, simple acoustic accompaniments, and only the barest additives when extra instrumentation is called for.
As overseen by producer Rick Shea, this Liverpool couple offer lovely, lingering melodies that resonate with simple sentiments revolving around home and hearth. The lack of pretence is striking, but songs such as "A Long Way Home," "Rest Home Cowboy," "Hard Times Have Come Again" and "The Trouble With Whiskey" resonate with a sadness, sweetness and sincerity that recalls long forgotten country classics recorded prior to the advent of cowboy-hatted radio-ready personalities, and the slick sounds imprinted on every commercial hit emanating from Music Row.
Despite their English origins, Davies and Monk offer a deep reverence for music once bred in the American heartland, and in the case of the traditional "The Leaving of Liverpool," the restless folk narratives emanating from their native U.K. It's a seamless combination, one that owes to the tenet that oftentimes less in better, ambition and ingenuity aside.
"The Long Unbroken Line" is a set of songs so sweet, it always connects in ways that stir the emotions and give pause for reflection. It's heartfelt in its sincerity and affecting in its purity of purpose. A wonderful and remarkable record, it finds The Good Intentions making good on their promise.
-Lee Zimmerman   Nov 2016
MIDWEST RECORD
"The Long Unbroken Line"
There seems to be a new underground in UK of Americana groups  reclaiming the string band music brought over here by those who would become hillbillies, and would bring down home sounds to prominence. Too strong to be just a labor of love, this married duo just plain hits it out of the park from the back porch, giving organic sounds a great treatment with just about no trace of them not being 'authentic' roots practitioners. Not exactly folk music, it's certainly some kind of folk hyphenate sound that's entirely welcome. Hot stuff."
Nov 2016
EVANGELINE ELSTON (Evangeline Presents Promotions)
A wonderful British folk sensibility, mixed with pure vintage American country music,and topped with skillful songwriting and beautiful vocal harmonies.
Oct 2016
KENNETH HIGNEY (Purple Dollar Publishing)
"I absolutely love Your Old Flame – Hank Williams reborn – and Rest Home Cowboy has a great Desperadoes Waiting For A Train feel.
I am loving this entire album. A down-home recording feel and some great songs."
Oct 2016